Jeffrey Trickett Scholarship
This scholarship is awarded to capable students who best represent and reflect the many fine qualities of Jeffrey Trickett including: excellence in academics, and a commitment to and proficiency in athletics and/or the arts - specifically, band and music.
About Jeffrey Trickett
Jeff was an outstanding young man, who exhibited well-rounded balance and achieved excellence in all he attempted - whether academics, athletics or the arts. Whether on the basketball court, in class, or in the band, Jeff always had a heart warming laugh, dedicated work ethic, and competitive instinct. His example was such that he inspired those around him to be better people, and in all ways he truly left his school greater, better and more beautiful than he found it. 
2019-2020 Forever Woods Scholars
This scholarship has been awarded to eight students who exemplify excellence in academics, and a commitment to athletics and/or music.
Andrew Beingessner '22
"Receiving the Jeffrey Trickett Scholarship has given me an opportunity to embody Jeffrey's multitude of qualities and commendable legacy in every aspect of my life. The privilege of obtaining this scholarship is not something that I take lightly, and I am grateful for this opportunity to continue to live a life of scholarship, leadership and character."
Aydin Bhojani '22
"I am honored and humbled to be selected as a recipient of the Jeffrey Trickett Scholarship. It is my hope that I can continue to achieve the well-rounded balance and excellence that Jeffrey Trickett embodied. He represented all the very best qualities of a Strathcona-Tweedsmuir School student. He was a dedicated and selfless person whose commitment to excellence in academics, music and athletics was inspiring. As a Forever Woods Scholar, I am committed to carrying his legacy forward by excelling in all that I attempt."
Justin Chanut '21
"Being a part of the STS community has allowed me to grasp my love of learning and I am gracious that I have been accepted so warmly into it with the honour of receiving the Jeffrey Trickett Forever Woods Scholarship. I feel that Jeffrey had a love for learning as passionate as I do, and hopefully I can exhibit this to the level that Jeffrey did so well."
Sharanya Chougule '22
"I would like to express my gratitude for being selected and honoured in receiving the prestigious Jeffrey Trickett scholarship. Receiving the scholarship while entering Senior School is a time of great excitement and I feel a sense of achievement in support of my personal development. I aspire to join many academic/athletic activities, especially those involving support of community and spreading of ethical behaviours."
Lucy Coleman '22
"The Jeffery Trickett scholarship has allowed me to appreciate how fortunate I am to attend an amazing school such at STS. I am honoured to be selected as a student who reflects the admirable qualities required for this scholatship.I will strive to live out the legacy of Jeffery by taking advantage of every opportunity provided and aspire to do my best in all areas of life, especially school."
Sophia Deluca '22
"It is an incredible and unimaginable honour to receive the Jeffrey Trickett Scholarship. It has enhanced my understanding of the importance role models have in our School's community. The Forever Woods Scholars are individuals who symbolize Nil Nisi Optimum in their own personalities and values. I feel motivated to continue striving for greatness and improvement in the world, as well as in myself, as Jeffrey Trickett and the Forever Woods students did."
Stephanie Picioreanu '20
"To me, being a Forever Woods Scholar means that I must embody the school's motto of Nil Nisi Optimum, meaning nothing but my best. It means that I must put my complete effort into everything I do as well as sticking to my commitments. Being a Forever Woods Scholar also means that I am involved in a large number of activities inside as well as outside the school community."
Favourite academic subjects: science, Spanish and language arts
Co-curricular and community involvement: volleyball, basketball, the school musical, choir, speech and Middle School basketball assistant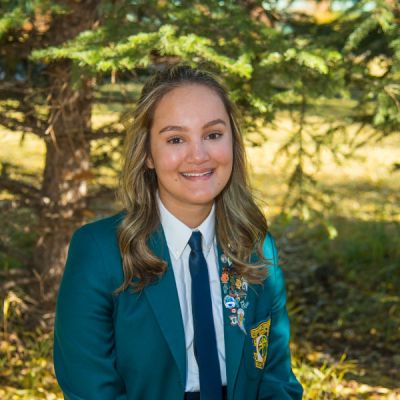 Alix Tucker '21
"Being a recipient of the Jeffrey Trickett Scholarship has been an honour for me. Jeffrey Trickett was exemplary in band and academics and to be associated with him and his accomplishments is incredible. This scholarship has allowed me to challenge myself in both my academics and band and has additionally allowed me to recognize my own accomplishments and gain confidence as a result. I am forever grateful for receiving the Jeffrey Trickett scholarship and I am proud to represent him and his accomplishments throughout his time at STS." 
< Return to Forever Woods Scholarships