Scott Broshko Scholarship
This scholarship is awarded in honour of Scott Broshko to a capable male or female student entering Grade 10 at Strathcona-Tweedsmuir School who best exemplifies Scott's many wonderful characteristics and lives by the motto "be your best".
About Scott Broshko
Scott's attitude was the epitome of what life is all about. He was an unbelievable young man who lived by the motto, "Be Your Best." 

Scott treated his family and friends with kindness and generosity of spirit lived his life with great love and compassion and always maintained the highest standard of honesty and integrity. His Christian values and ideals were transparent in his daily life. Scott worked diligently and was committed to being the best that he could be. He was an academic, an athlete, and a musician. He made others feel good about themselves, was accepting and non-judgmental. His team spirit and enthusiasm for life was contagious.
2018-2019 Forever Woods Scholars
This scholarship has been awarded to six students, who live by the motto "be your best."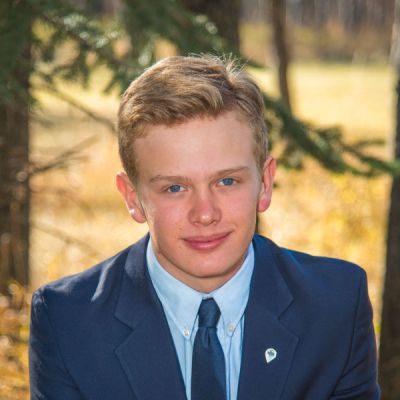 Rex Armor '20
"It is my honour to be a recipient of a Forever Woods Scholarship. It has encouraged me to take every opportunity that I get to meet new people, learn new things, partake in new experiences, and to give back to the community. Scott Broshko's motto "be your best" encourages me to maintain the values which he lived by and to instill those values in my peers and others around me."
Favourite academic subjects: outdoor education, design
Co-curricular and community involvement: Round Square member and delegate,  2050 Project, Model United Nations, volleyball, sailing, band, Drop-in Centre, and Food Bank volunteer
Jake Baverstock '21
"I am extremely honored to be a recipient of the Scott Broshko scholarship. I have seen the community reflect the values Scott Broshko represented, such as "Be your best." Receiving this accolade is a constant reminder to always strive for my best, and I am proud and happy to promote this message within the community."
Favourite academic subjects: science, art, English, social studies, outdoor education, physical education
Co-curricular and community involvement: Senior School musical, speech, cross-country, Round Square
Zaki Lakhani '20
"I am extremely humbled to have received this accolade and be recognized for emulating Scott's illustrious and pervasive legacy. Being a Forever Woods Scholar has allowed me to pledge to serve as a contributing STS student who makes a constant effort to exemplify and uphold the values and principles that the school espouses. This scholarship constantly motivates me to strive for my best in all that I do, just as Scott did, and in doing so helps me encourage my peers within the school community to do the same."
Favourite academic subjects: English, drama, social studies
Co-curricular and community involvement: speech, debate, drums, badminton, volunteer with Project Warmth Society of Alberta and representative for Case in Point Debate Calgary
Stephanie Lee '21
"Having had the pleasure and honour of being awarded the Scott Broshko Forever Woods Scholarship means I will be able to fully dedicate myself to the school community; moreover, being a Forever Woods Scholar encourages me to strive to be the best that I can be every day. Scott Broshko's motto: "be your best," and his well-rounded dedication to music, athletics and academics truly embodies the spirit of STS and inspires me to not only continue his legacy but also celebrate and exhibit his acclaimed characteristics through showcasing excellence in involvement."
Favourite academic subjects: language arts, french, international politics
Co-curricular and community involvement: volleyball, field hockey, badminton, golf, Outdoor Education, Duke of Edinburgh, choir, band, Royal Conservatory piano, Royal Conservatory music harmony, Royal Conservatory music theory, Costa Rica service trip, PYPX mentor, Calgary Youth Student Council, scorekeeping, student leader for camp
Kyle Patry '21
"Being a recipient of the Scott Broshko Scholarship is a true honor. I am proud to be a representative of both the values of STS and the legacy of Scott."
Favourite academic subjects: social studies, international politics
Co-curricular and community involvement: Model United Nations, debate, virtual reality club, Reader for Grade 9 Reach For the Top, school musical pit band, band
Zasha Rabie '19
"Being the recipient of the scholarship encourages and reminds me to lead a well rounded life, and strive to be my best in athletics, academics and arts. It motivates me to continue to be the absolute most hard-working and effortful person I can be, in an attempt to embody Scott's legacy and let it live on for future generations of STS students to also learn from."

Favourite academic subject: drama
Co-curricular and community involvement: cross-country running, choir, senior musical, trampoline and tumbling, and working at Theatre Calgary
< Return to Forever Woods Scholarships