Scott Broshko Scholarship
This scholarship is awarded in honour of Scott Broshko to a capable male or female student entering Grade 10 at Strathcona-Tweedsmuir School who best exemplifies Scott's many wonderful characteristics and lives by the motto "be your best".
About Scott Broshko
Scott's attitude was the epitome of what life is all about. He was an unbelievable young man who lived by the motto, "Be Your Best." 

Scott treated his family and friends with kindness and generosity of spirit lived his life with great love and compassion and always maintained the highest standard of honesty and integrity. His Christian values and ideals were transparent in his daily life. Scott worked diligently and was committed to being the best that he could be. He was an academic, an athlete, and a musician. He made others feel good about themselves, was accepting and non-judgmental. His team spirit and enthusiasm for life was contagious.
2019-2020 Forever Woods Scholars
This scholarship has been awarded to eight students who live by the motto "be your best."
Rex Armor '20
"It is my honour to be a recipient of a Forever Woods Scholarship. It has encouraged me to take every opportunity that I get to meet new people, learn new things, partake in new experiences, and to give back to the community. Scott Broshko's motto "be your best" encourages me to maintain the values which he lived by and to instill those values in my peers and others around me."
Jake Baverstock '21
"I am extremely honored to be a recipient of the Scott Broshko scholarship. I have seen the community reflect the values Scott Broshko represented, such as "Be your best." Receiving this accolade is a constant reminder to always strive for my best, and I am proud and happy to promote this message within the community."
Victoria Horsman '22
"In Scott Broshko's memory, it is my honour to become the greatest version of myself through STS and this scholarship. I hope to prove myself deserving of this honour by following Scott Broshko's inspiring exemplar of life. His legacy is a reminder to exploit all opportunities and to always strive to reach the height of my potential."
Zaki Lakhani '20
"I am extremely humbled to have received this accolade and be recognized for emulating Scott's illustrious and pervasive legacy. Being a Forever Woods Scholar has allowed me to pledge to serve as a contributing STS student who makes a constant effort to exemplify and uphold the values and principles that the school espouses. This scholarship constantly motivates me to strive for my best in all that I do, just as Scott did, and in doing so helps me encourage my peers within the school community to do the same."
Stephanie Lee '21
"Having had the pleasure and honour of being awarded the Scott Broshko Forever Woods Scholarship means I will be able to fully dedicate myself to the school community; moreover, being a Forever Woods Scholar encourages me to strive to be the best that I can be every day. Scott Broshko's motto: "be your best," and his well-rounded dedication to music, athletics and academics truly embodies the spirit of STS and inspires me to not only continue his legacy but also celebrate and exhibit his acclaimed characteristics through showcasing excellence in involvement."
Kyle Patry '21
"Being a recipient of the Scott Broshko Scholarship is a true honor. I am proud to be a representative of both the values of STS and the legacy of Scott."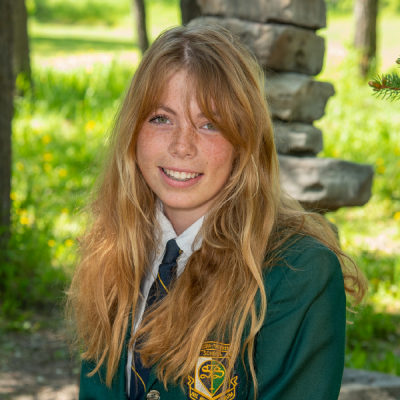 Alex Sealy-Thompson '22
"I am incredibly humbled and honored in having received a scholarship in the name of Scott Broshko, an inspiring and respectable boy who achieved so much in his regrettably short life. As a recipient of this distinguished scholarship, I feel greatly empowered and entrusted to carry out the legacy of both Scott Broshko and our motto "Nil Nisi Optimum" in my day-to-day life, and hope to inspire my peers and members of the school community in the same way that Scott did."
Roxy Taylor '22
"This scholarship is not only a genuine tribute to Scott's memory, but additionally, it has served a as way to inspire myself. I have always been interested in doing as much as possible to the best of my ability, and with the knowledge that others have seen that potential within me, I will ensure that I continue to push myself to my furthest extent"
< Return to Forever Woods Scholarships