Jeffrey Trickett Scholarship
This scholarship is awarded to capable students who best represent and reflect the many fine qualities of Jeffrey Trickett including: excellence in academics, and a commitment to and proficiency in athletics and/or the arts - specifically, band and music.
About Jeffrey Trickett
Jeff was an outstanding young man, who exhibited well-rounded balance and achieved excellence in all he attempted - whether academics, athletics or the arts. Whether on the basketball court, in class, or in the band, Jeff always had a heart warming laugh, dedicated work ethic, and competitive instinct. His example was such that he inspired those around him to be better people, and in all ways he truly left his school greater, better and more beautiful than he found it. 
2016-2017 Forever Woods Scholars
This scholarship has been awarded to six students, who exemplify excellence in academics, and a commitment to athletics and/or music.
Lizzy Barron '18
"Being a Forever Woods Scholar means honouring the memory of Jeffrey Trickett. I appreciate the opportunity to be part of the STS community, and I will dedicate myself to excellence in and outside the classroom as Jeffrey did."
Favourite academic subjects: chemistry, English

Co-curricular and community involvement: Model United Nations, band, Reach for the Top, cross-country running, Girl Guides, and volunteering at the Glenbow Museum, synagogue and the STEM Learning Lab
Emily Black '18
"Being a Forever Woods Scholar motivates me to continue to be an active member of the school community, and represent our school mission of excellence in scholarship, leadership, and character."
Favourite academic subjects: chemistry, band
Co-curricular and community involvement: senior musical, debate, Round Square, choir, Reach for the Top, piano, band, singing, harmony, bake-off, jazz dance, cross-country running, band camp leader, playing piano at seniors' homes, and volunteering at the Calgary Food Bank, Calgary Drop in Centre, and South Health Campus Hospital 
Vicki Bruhjell '17
"Being a recipient of the Jeffrey Trickett Scholarship has inspired me to continue to take advantage of the numerous outstanding opportunities at this school and to always find new ways to get involved in my STS community."
Favourite academic subjects: economics

Co-curricular and community involvement: Prefect, volleyball, field hockey, Model United Nations, Diversity Week Committee, peer tutoring, Costa Rica service trip, and Round Square International Conference in India 
Matthew Haverko '19
"Receiving this scholarship has allowed me to fully appreciate how fortunate I am to have the opportunity to attend STS, and has given me a better sense of pride and responsibility. In being a Forever Woods Scholar, I will continue to push myself to achieve excellence through a strong work-ethic, as Jeffrey Trickett did."
Favourite academic subjects: math, international politics
Co-curricular and community involvement: volleyball, basketball, rugby, track and field, hockey, refereeing, peer tutoring, Guatemala Service Trip, Outdoor Education, band, jazz combo
Aliza Jaffer '19
"Receiving the Jeffrey Trickett Scholarship reminds me of how privileged I am to have the opportunities given at STS. With the combination of co-curricular activities and academic excellence, I feel honoured and motivated to represent the Nil Nisi Optimum expectation through my involvement in our school community."
Favourite academic subjects: math, science
Co-curricular and community involvement: basketball, speech and debate, Model United Nations, Outdoor Education, band, 2050 Club, Environmental Sustainability Club, choir, badminton, volunteering at a hospital and seniors home, Calgary Food Bank, Round Square Conference in Germany, and peer tutoring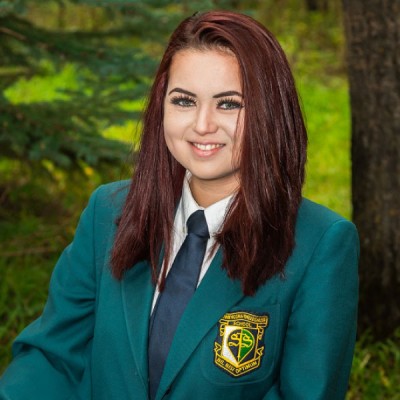 Leila Okabe '17
"I feel honoured to have received this award. I strive to excel in school and athletics, and I am inspired to be a well-rounded, and committed student. With this award, I have grown to be more confident, determined, and possess a stronger work ethic. For the remaining time I have to attend STS, my goal is to excel in all aspects of my life in the name of Jeffrey Trickett."

Favourite academic subject: math

Co-curricular and community involvement: hockey, assistant coach for peewee hockey team, and volunteering for the Rema Family Fun Day for the Alberta Children's Hospital Miracle Network and the Scotiabank Girl's HockeyFest