Scott Broshko Scholarship
This scholarship is awarded in honour of Scott Broshko to a capable male or female student entering Grade 10 at Strathcona-Tweedsmuir School who best exemplifies Scott's many wonderful characteristics and lives by the motto "be your best".
About Scott Broshko
Scott's attitude was the epitome of what life is all about. He was an unbelievable young man who lived by the motto, "Be Your Best." 

Scott treated his family and friends with kindness and generosity of spirit lived his life with great love and compassion and always maintained the highest standard of honesty and integrity. His Christian values and ideals were transparent in his daily life. Scott worked diligently and was committed to being the best that he could be. He was an academic, an athlete, and a musician. He made others feel good about themselves, was accepting and non-judgmental. His team spirit and enthusiasm for life was contagious.
2016-2017 Forever Woods Scholars
This scholarship has been awarded to five students, who live by the motto "be your best."
Emma Cross '18
"This scholarship inspires me to work towards my full potential and be thankful for and take advantage of the opportunities available to me. In addition, it reminds me to be humble, and to aspire to have the same characteristics that Scott Broshko had."
Favourite academic subjects: math, chemistry

Co-curricular and community involvement: speech, debate, choir, school musical, cross-country running, basketball, field hockey, track and field, 2050 Project, and Alberta Junior Hereford Association
Phoebe Ho '17
"I am proud of being a Forever Woods Scholar.  Sometimes when I am struggling in school, or if I'm stressed, this scholarship helps to remind me that I am capable of doing amazing things and motivates me to continue to work hard to become successful in everything I do."
Favourite academic subject: chemistry

Co-curricular and community involvement: art workshop, Reach for the Top, badminton, and volunteering for church, Chinatown festival, and Father Lacombe Care Center
Arzina Jaffer '18
"Receiving this scholarship has motivated me to take part in many new opportunities offered at the school, which has allowed me to become a very well-balanced student. I feel very honoured and thankful to have received the Scott Broshko Scholarship, and I hope to exemplify similar traits to Scott and continue his legacy."
Favourite academic subjects: math, science

Co-curricular and community involvement: basketball, speech, debate, Model United Nations, Outdoor Education, band, 2050 Club, Environmental Sustainability Club, choir, peer tutor, badminton, Round Square Conference in Germany, and volunteering at a hospital, a seniors home, and the Calgary Food Bank.
Tess McNaughton '18
"As a Forever Woods Scholar I believe it is important to be a good example to others by showing respect to my peers and teachers. I strive to do well in both my academics and extracurricular activities in order to honour Scott Broshko's motto "to be your best."

Favourite academic subjects: math, history

Co-curricular and community involvement: peer tutoring, Diversity Week Committee, church hospitality, camp counsellor, volleyball, Reach for the Top.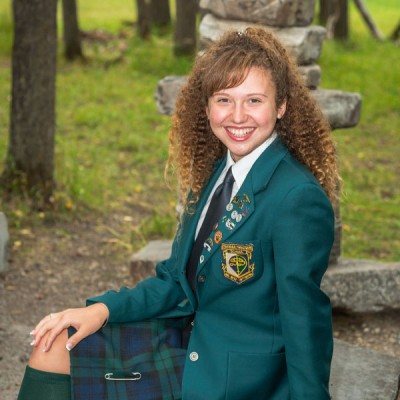 Zasha Rabie '19
"Being the recipient of the scholarship encourages and reminds me to lead a well rounded life, and strive to be my best in athletics, academics and arts. It motivates me to continue to be the absolute most hard-working and effortful person I can be, in an attempt to embody Scott's legacy and let it live on for future generations of STS students to also learn from."

Favourite academic subject: drama
Co-curricular and community involvement: cross-country running, choir, senior musical, trampoline and tumbling, and working at Theatre Calgary