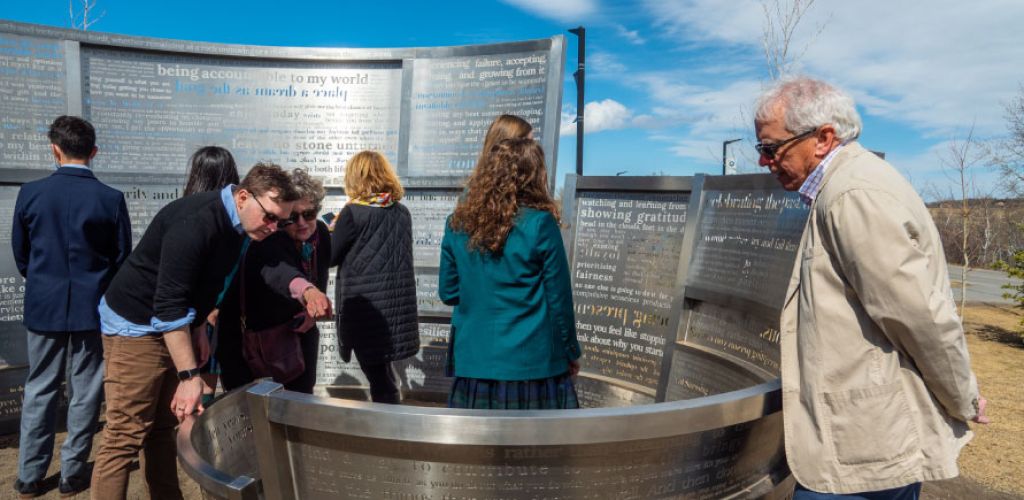 Leaving A Legacy
Nil Nisi Optimum and Romance and Rigour are the result of a request for proposal put forth to the STS community in honour of this landmark occasion. We received an overwhelming response from our local artists and sculptors, and the final designs were selected by a formal committee review.
Nil Nisi Optimum was dedicated during a special event held in April 2022, and the official unveiling of Romance and Rigour was one of the highlights of June's Big Birthday Bash weekend. These events were made even more significant by the fact that these installations were created by three STS alumni and our very own beloved Elementary Art teacher.
According to our Head of Community Relations, Lara Unsworth '95, who spearheaded this initiative, the value of these works goes far beyond simply beautifying our campus. "It's important to leave a legacy…really taking time to acknowledge the past in a meaningful way that's permanent, but also signifying where we're going as a school. It allowed members of our community to be a part of the anniversary, to engage and contribute."
NIL NISI OPTIMUM
Nothing but our best — what does it really mean? This was the central question that inspired three extraordinary artists — all STS alumni — to create the stunning sculpture that now inhabits a place of prestige near our front entrance area, and serves as a daily reminder of our School's motto. 
It certainly inspired artist Rosanna Marmont '05, who was then eight months pregnant and was attempting to summit a two-mile hike in the mountains. At the same time, she was wondering how she could contribute to our School's 50th Anniversary. It seemed only natural for her to question what 'doing your best' meant, and why making it to the top of her destination, one tiny determined pregnant step at a time, was important to her. 
Rosanna connected with fellow STS alumni Spencer Purdy '05 and Megan Adams '05 to draft a joint proposal for a potential permanent sculpture. After many meetings and design calls, they submitted their collaborative proposal in April of 2021.
When notified they had been selected, they reached out to the entire STS community: students, teachers, administrators, board members and alumni and asked "What does 'embracing your best' mean to you personally?" "What are the responsibilities we face when committing to this concept?" "What are the rewards, and what can we learn from each other about our underlying definitions and motivations?" Finally we asked ourselves "What, exactly, constitutes 'best'?" The responses were, at times, contradictory, which reveals the many views of our community. In laying out the text that was to be cut and etched into the panels, the artists were careful to never provide a hierarchical or singular conclusion. The result is dynamic and immersive, with words and visuals changing from every angle of the sun or position of the viewer.
The myriad of challenges faced on the road from proposal to finished piece served as another constant reminder of Nil Nisi Optimum, beginning with the fact that the artists lived hours away from one another and, in some cases, in different countries. With pandemic restrictions in full effect, the team relied on remote meetings to plan and execute the project. Megan and Rosanna sorted and spell checked responses, sending the completed iterations on to Spencer, who then began the process of designing the details of the physical structure. Ultimately, Spencer arranged the hundreds of etched and cut- through responses (a design challenge in itself given the double-sided nature of the sculpture) on what would end up being over 200 square feet of stainless steel.
To mitigate the price of steel, which was at an all time high, Spencer worked with an overseas metal fabricator in Foshan, China that he had used in the past. He also underwent a six month crash course in Cantonese design terms and business negotiation. Despite facing COVID-19 shutdowns, language barriers, design revisions, and global shipping setbacks, the individual components arrived in Calgary in January of 2022, where they were assembled and installed with the help of a local craftsperson.
The finished piece, Nil Nisi Optimum, consists of an eight-foot high, ten- foot diameter stainless steel sculpture. Reflecting the Fibonacci spiral often found in nature, the five individual panels begin at a central point and expand outwards, increasing exponentially from a one-by-one-foot square to the full eight feet. Each panel features a collection of the 200 anonymous responses received from the STS community. The five panels mark the five decades of STS's existence, and reflect the growth of the School, the community, and that of the individuals within. The sculpture is designed to allow for the addition of new panels as our School moves towards its next 50 years.
Nil Nisi Optimum is the banner under which students at STS walk each day. It is the context through which teachers develop their curriculum and expectations, and the standard to which every member of the STS community holds. At STS, you are not only inspired and resourced to do your best, you are held accountable to do your best.
NIL NISI OPTIMUM ARTISTS
Megan Adams '05
This project was very humbling for me to participate in because the ideas and hard work and thoughtful responses shared with us manifested themselves as pieces of physical, tangible steel under Alberta skies. The work I do as a scientist usually lives in data or policy or paperwork, but rarely does it express itself in a physical way. When I saw students engaging with the sculpture the day it was unveiled and the handprints on steel they left behind, I was moved by what public art is and will evolve to be as its audience continues to engage with it. As a proud alumni, I am grateful to have contributed to a commemorative celebration of the STS community.
Rosanna Marmont '05
As a visual artist, the moment of completing a painting and sending it out into the world is an important shift of ownership. I give them my best effort and when they are finished they take on a life of their own; they no longer belong to me, they belong to the world. What this sculpture has meant to us and what we intended now falls away, and the piece takes on a life of its own, forming new relationships with all those who will perceive and interpret it. 
The same can be said for all those that shared in the making of this project. Every quote, every piece of shared wisdom or lighthearted humour takes on a different meaning, depending on the day, depending on how the reflection of the sky draws attention, depending on the personal and unique experiences of each individual viewer. It feels exhilarating to join every other onlooker and take in this sculpture as something distinct unto itself. Thank you to all those that helped this idea become a reality.
Spencer Purdy '05
It has been rewarding to watch this project go from initial concept to design and fabrication, and into installation. However, the truly fulfilling stage has been seeing it enjoyed on the STS campus. What makes this project unique, especially when compared to my others, is that it is located in a place that I know I will return to over the years. I will be able to see how future STS community members interpret, view, and interact with it as the years pass. I am so glad to be able to contribute to the legacy of STS at this snapshot in time, and I am grateful to STS for affording me the opportunity to share in the process of its creation.