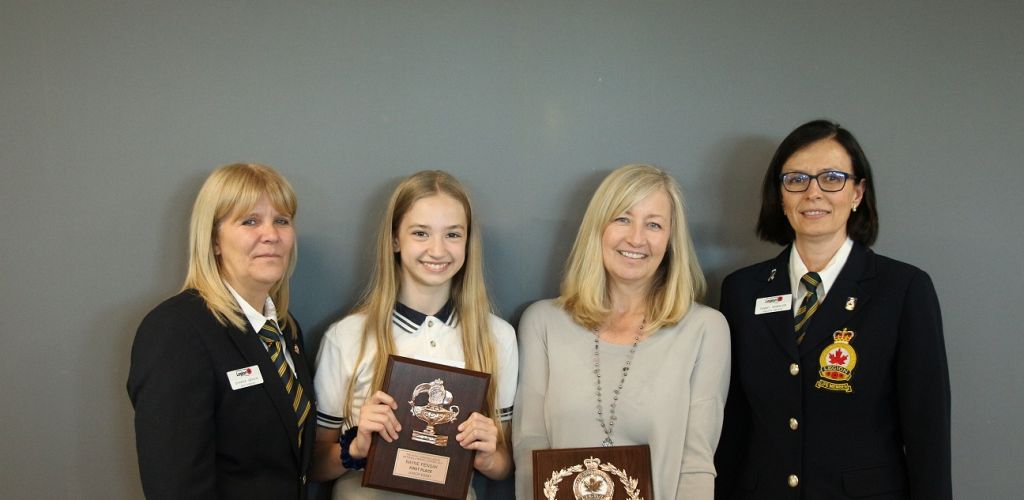 Rayne P. '25 receives honourable recognition by the Royal Canadian Legion
STS is happy to celebrate the accomplishments of Grade 6 student, Rayne P. '25, who was honoured this passed Monday for her National level win in the Royal Canadian Legion Contest. Ms. Tammy Wheeler, Executive Director of the Alberta-Northwest Territories Command of the Legion, visited STS to present Rayne with a special plaque and a cheque for $250. 
Rayne wrote an essay last year for a Grade 5 Unit of Inquiry, honouring her grandfather's participation in World War II. As the deadline for the Legion contest approached last November, she altered her essay to fit the requirements for the contest, and entered it at the local level through the Turner Valley Branch of the Legion. Her heartfelt tribute, demonstrating the personal side of war and the sacrifices our veterans have made for our freedoms and way of life, touched Legion members. As a result, Rayne is the Junior Essay winner for the Nation!
Rayne also presented a plaque to Mrs. Conway on Friday as recognition for the School's dedication to the Royal Canadian Legion Contest. Students are encouraged to watch for announcements of next year's contest in September. 
Please enjoy reading Rayne's essay below.
"Tadeusz Pecak"
Imagine your entire life, your country, your home, your friends, your trust, changed overnight. This is the story of my Grandfather, Tadeusz Pecak, whose family lived in Poland when the war began. When I asked my Father how the war changed my Grandfather's life, he told me the war didn't just change his life. The war changed everything. Tadeusz was 14 when the war began. In Poland, no one knew that Russia, rather than protecting Poland, would soon be attacking. Russian soldiers arrived at my Grandfather's farm. The family was given 24 hours to pack what they could carry and leave. Imagine, you're playing, or eating dinner, and in one brief moment, your life is irrevocably changed. Your property. Your land. Your home. Forever gone. They walked for days, at gunpoint, before being loaded onto train cars meant for animals, without food or water, headed to an unknown destination.
They were ordered off the train in Siberia. For Tadeusz this was the "good part" of the war. He found work enabling him to feed his frail Mother and 5 younger siblings. A hut was now home. Months later they were loaded onto another train, heading to another unknown destination. Eventually the train and its occupants were abandoned in China. Tadeusz' Father and youngest brother died of starvation. At 16 he dug their graves. He was now solely responsible for his family.
Hearing talk of a Polish army base, he walked for days to find it, unsure it even existed. He found the regiment and enlisted, claiming to be 18. He finally had food, shelter, and clothing. Every week he sent packages to his family via the Red Cross. The war continued, as did his packages. He had no way of knowing if the packages ever arrived, or even if his family was still alive. Ten years after the war ended, he was reunited with his family. His packages ensured their survival. They were alive because of him. In conclusion, if, like me, you've ever wondered how war might change someone's life, know the answer is this – war changes everything.